Karnataka February 2023

Click here to download the report
Karnataka, is known across world for growing high coloured dry chillies. Major area's are Hubli, Bellary and Raichur. Varieties are Byadgi / KDL, Dabbi, Syngenta 5531, Syngenta 2043 and others.
| Area | Sowing period | Harvest period |
| --- | --- | --- |
|  Hubli |  June – July | November – March |
|  Bellary | July – August | January – April |
| Raichur |  July – September |  February – May |
Karnataka area Rainfall in 2022-23.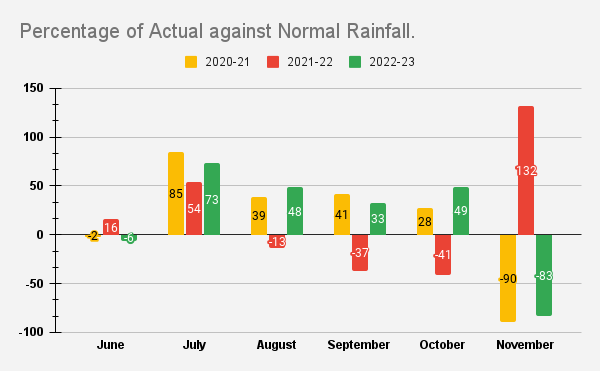 Karnataka Market arrivals in February 2023.
February 2023 Summarized
Major arrivals were Byadgi / KDL, Syngentha 5531, Syngentha 2043 and Devanur Deluxe(DD).
Compared with last year, arrivals is 40 % less but last year we had 20% of arrivals of white colour(very low medium), this year its just 2%.
This year total arrivals of colour medium and top quality is 30% less than last year.
February last week Byadgi / KDL price was 48,000 and Syngentha 5531 was 22,000. Prices from 1st week of February to last week saw increase of 20% for Syngentha 5531 and for Byadgi / KDL saw a rise of 15%.
Compared with last year, Bellary crop is delayed by 4-6 weeks. This delay is because of 1 month late sowing and another 2 weeks due to good climatic condition where 2nd picking new leaves have grown fastly, hence farmer will pick both 1st and 2nd picking at once.
February month weather was good for crop, Bellary and Raichur area crops are performing exceptionally well. Climatic condition is ideal with high cold at night and hot in afternoon.
Our data tells us to compare 2022-23 with 2020-21 and not with 2021-22, as in 2021-22 their was complete washout of bellary area.
For this year we can expect a long season with arrivals till end of April against last year's march 3rd week.
February SpiceExtra Updates:
Every year we bring out a Handbook on Byadgi Chilli(Click to download) to do its branding. This year we are doing a video showing how a mother and Indian Spice Companies are serving world with the finest Masala products using Byadgi Chilli. The video will be launched on World Environment Day – 5th June, 2023 #RedGoldOfIndia
We Invite Spice / Masala Companies to collaborate with us on this video. Together, towards building BrandLocalByadgi. BrandLocalByadgi stands for Aroma, Colour and Organic.
SpiceExtra is a platform for Research and Development(R&D) initiatives in Dry Chilli. It will focus on Digitizing – Price and Arrivals, Crop survey, Assaying and Branding. Check us at www.SpiceExtra.in
Please follow and like us: